We are pleased to now be able to offer to Suffolk and Hampton Roads area physicians  Peripheral Vascular Laboratory Services.
Vascular testing procedures we offer include:
Acute Venous Ultrasound
AAA Ultrasound
Cerebrovascular Testing
Dialysis Access Evaluation
Peripheral Arterial Testing for PAD
Carotid Artery Ultrasound
Peripheral Venous Testing
Renal and Mesenteric Artery Ultrasound
Venous Insufficiency Ultrasound
Immediate notification of critical results
All testing performed by Registered Vascular Technologists.
Before & After
Your Technologists
Sarah Stephens (Technical Director) BS, RVT–
Sarah is a Virginia native and joined the CVI family 9 years ago. Sarah is currently the Technical Director of the Vascular Lab. She is a Registered Vascular Technologist through the ARDMS. She received her BS in Health Sciences degree from James Madison University in 2011. She continued her education at Sentara College of Health Sciences where she graduated in 2013 with an AS in Occupational Sciences with concentration in Vascular Technology. Sarah joined CVI immediately following graduation.
Kimberly Atkins BS, RVT–
Kimberly is a Maryland native with 11 years of Vascular Ultrasound experience. She is a Registered Vascular Technologist through the ARDMS. She attended Nova Southeastern University where she received her Bachelor of Health Sciences Degree with a specialty in Vascular Ultrasound in 2010. Kimberly spent the majority of her career within the VCU Health System.
What is IAC Accredidation?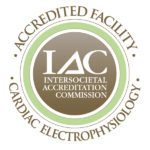 The purpose of the IAC Vascular Testing accreditation program is "to ensure high quality patient care and to promote health care by providing a mechanism to encourage and recognize the provision of quality vascular diagnostic evaluations by a process of accreditation." Through the accreditation process, facilities assess every aspect of daily operation and its impact on the quality of health care provided to patients. While completing the accreditation application, facilities often identify and correct potential problems, revise protocols and validate quality improvement programs. Because accreditation is renewed every three years, a long-term commitment to quality and self-assessment is developed and maintained. Facilities may use IAC accreditation as the foundation to create and achieve realistic quality care goals.